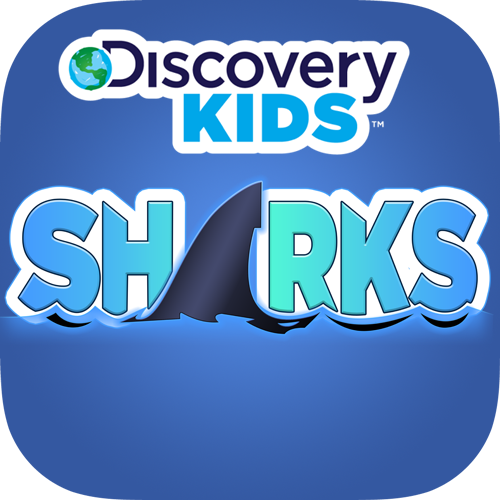 App Locations
Discovery Kids Sharks from Discovery on Vimeo.
– Named one of Apple's Best of 2011 Education Apps, previously selected as an iPad App of the Week
– Rated 3.5/4 Stars by USA Today – "Interesting and interactive for young, curious minds"
– Rated 5/5 Stars by AppTudes – "A Shark Lovers Must-Have"
– Rated 5/5 Stars by Common Sense Media – "Sleek, thorough, fun – a must for kids who love sharks."
– Rated 5/5 by Apps for Homeschooling
Discover everything you need to know about sharks with this fun-filled app from Discovery Kids! Following on the heels of Discovery's Ultimate Sharks App (named an iPad App of the Week by Apple), this sharktastic app is designed especially for kids ages 6+ and is fun for the whole family! A beautiful touchscreen interface turns the iPad into a cool learning tool for children.
Test your shark knowledge with 5 action-packed interactive games and 30 digital trading cards filled with top shark facts, and unlock a full color sticker scene once you've proven your shark knowledge.
"My fascination with sharks began at the age of 5 and I have been lucky enough to have had a great career working with these amazing animals. As a kid I picked up every book that I could about sharks, but I certainly wish I had an iPad back then. The Discovery Kids Sharks app for the iPad is great for any child interested in sharks or the oceans. It offers a good mix of reading, photos, videos and even games. When I am able to get it away from my 4 year old daughter, my favorite part is the feeding game. – Andy Dehart, Discovery Channel Shark Advisor"
Discover all about:
* Basic shark anatomy
* Types of sharks and the differences between them
* How sharks hunt and their favorite food
* Where sharks live around the world and why
* What it's like to be part of a shark family
Features:
* 30 digital trading cards that can be shared via e-mail
* Awesome live-action videos straight from Discovery's Shark Week files
* More than 150 fantastic shark facts
* Stunning photographs of sharks in their natural environments
* No internet connection required
* Developed especially for the iPad