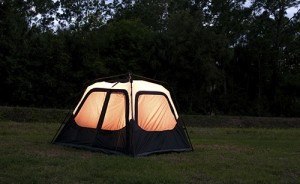 Summer is the perfect time to explore the great outdoors with a camping trip. If you can't make it to a camp site or spend a lengthy car ride up to the mountains, you can still have an adventure right in your own yard!
A backyard camping trip is the perfect way to spend a summer weekend without packing the car or lengthy planning. Have your kids invite some friends over for a fun sleepover under the stars!
Here's what you'll need…
Supplies:
Tent
Tarp (ground cover)
Sleeping bags
Pillows
Matches (for parents)
Firewood
Newspaper or other kindling
Flashlights
Candles (as a campfire option)
Food/Cooking:
Cooler with ice
Hotdogs, buns and condiments
Chips & dips
Veggie sticks (celery, cucumber, carrots)
Roasting sticks
Marshmallows
Chocolate
Graham crackers
Water
Re-usable plates and cups
Setting Up: 
Look for a flat, rock-free area to lay your tarp down.
On the tarp, open up your tent and set it up. Have your older kids help with hammering the stakes into the ground!
Take off your shoes before entering the tent to keep it neat inside.
For Your Campfire: 
Does your yard have a fire pit or a place to safely build a fire? Try using your barbecue grill or a camp stove if you're limited in fire options. If you can't use those, build a fake fire with a cluster of candle sticks or flashlights beaming up!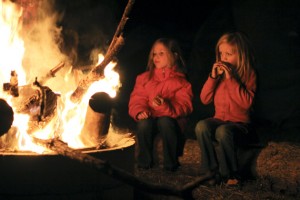 Fun Activities:
Share these classics with your kids for good old fashioned fun!
Telephone
Simon Says
Name That Tune
Have a Scavenger Hunt
Go on a nature hike through your neighborhood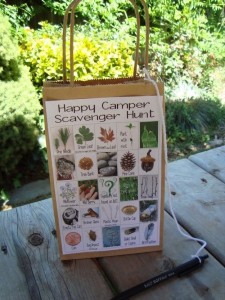 And, of course, don't forget about fire-roasted hot dogs for dinner and s'mores for dessert!