Haunted houses are fun and spooky but if you can pull off your own scary version you officially win halloween. Here's how to make your own haunted house in 7 easy steps!
1. Set up.  A dark, medium-sized garage or room that you can move around and get dirty is the perfect place to set up a haunted house. You can cover windows with cardboard or paper- but ideally a garage or shed would work best.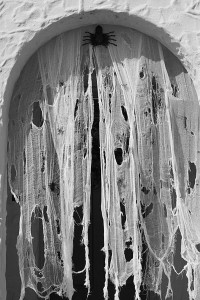 2. Clear entrance and exit.  It's important that you plan out how people get in and out of the haunted house, especially in case you have a lot of people come through or if someone needs to get out quickly. Plan a clearly marked entrance and exit for your haunted house with a light source so that people can see where to go.  
3. Cardboard walls.  You'll want a couple cardboard walls for some classic scares and to hide the tricks of the haunted house! People can creep behind the walls or you can have holes to stick hands and arms out to scare people. These walls are also good places to hide music and other eerie props. Check out some good tricks to do with your "haunted walls" here!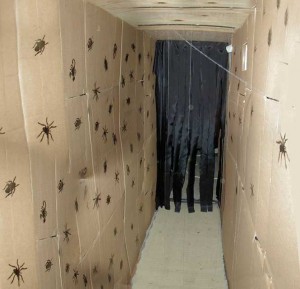 4. The story/mood. What's your haunted house's "story?" Is it haunted by ghosts, zombies, vampires or all three? Does the haunted house have a history to it (for example, is it built on an ancient graveyard and is haunted by the spirits in the graveyard?). Giving your haunted house a focus or "story" will make things more specifically spooky and will make it easier to decorate.
5. Decorations. You have to have scary decorations around the haunted house, so there'll be something eerie at every turn.  Here are some great haunted house decoration ideas that will leave your guests scared…and remember- this could go with your house's "story" or if you want, it could just be a smoregesboard of haunts and tricks! It's totally up to you!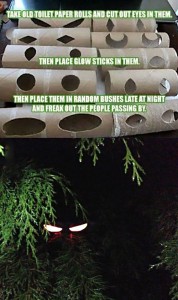 6. Music. You have to have the spooky soundtrack to create a mood! Your music could also go with your story or could just be spooky. Here are some great downloadable haunted house playlists that will work well in any haunted house. Make sure the music isn't too loud to hear bumps, thumps and screams from actors in your haunted house and of course…from the guests!
7. Props and actors. Sure, it might be scary with music, decorations and walls, but what will your guests actually be doing? You could have them sticking their hands in "zombie brains," trying to uncover a mystery or just walking around and being "haunted." But having your guests doing something creepy or interacting with your props makes for the scariest haunted house. Check out more ideas on how to do this here. Another good tip? Blindfold your guests for an even creepier haunted house experience. Boo!